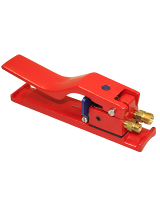 Blastmaster 152P Pneumatic Remote Switch
*Items that are out of stock/not tracked can be shipped from warehouse. Please call us for more information.*
The Blastmaster 152P Remote Control Switch
gives an operator the ability to remotely activate and deactivate the remote control system at the blasting nozzle, eliminating the need for a pot tender, increasing productivity and reducing costs.  It features a spring-assisted safety tab and handle, providing a dual "Fail-to-Safe" design,
 which will deactivate the remote control system in the event the operator drops or loses control of the remote control system.
The Blastmaster 152P Remote Control Switch is lightweight, has a broad handle design reducing hand fatigue when blasting for long periods of time, and
 is constructed of die cast aluminum for durability. 
Typical applications include: blast rooms, blast yards, bridges, oil refineries, pipelines, railcar shops, shipyards, and storage tanks.
OSHA-COMPLIANT ENHANCED SAFETY
OSHA requires an abrasive blasting pot to be equipped with a remote control system, which only operates with continuous hand pressure and closes immediately upon release of the control switch by the operator (29 CFR 1910.244(b)).