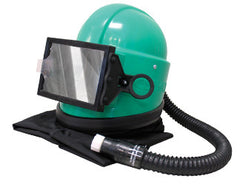 Clemco Apollo 20 Supplied Air Blast Hood
*Items that are out of stock/not tracked in store can be shipped from warehouse.

 

Please call our office at (405)235-1387 for product availability, pricing and shipping details.*
Apollo 20 HP & LP Supplied-Air Respirator
Our most economical respirator delivers lots of value. The Apollo 20 is a single-shell construction helmet supported by an adjustable suspension. The Apollo 20 comes standard with DLX comfort-fit suspension. The DLX suspension surrounds the operator's head with comfortable padding. A chin strap holds the helmet firmly in place. The rectangular window provides a clear field of view. An inner fixed lens and one middle lens seal out dust and abrasive.
Available for use with compressed air (HP Model) or air pump (LP Model). 

Up to three lightweight, disposable outer lenses, held in place by a hinged frame, protect the middle lens from pitting. As the outermost disposable lens becomes pitted, it can be torn off to expose the next lens. 
 
Advantages 
• DLX comfort-fit suspension
• Box-front window features economical replacement lenses
• Sound-attenuating, air-distribution channel
• Lightweight construction
• Molded-in carrying handle
• Allows operator to wear supplementary hearing and primary eye protection

Approvals and Certifications
The Apollo 20 HP helmet is a NIOSH approved, type CE respirator (approval number TC-19C-338) and is recognized by OSHA as having an assigned protection factor (APF) against lead dust of 1000 times the permissible exposure limit (PEL).
NOTE: Prior to use, ensure that the Apollo, type CE, supplied-air respirator is appropriate for your specific blasting conditions and requirements.