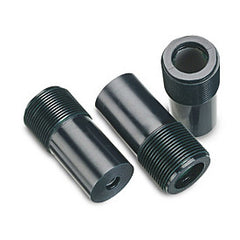 Short Venturi Nozzles
Please call us for availability and accurate pricing before you make your purchase. Items out of stock/not tracked can be shipped from warehouse.



When you find yourself in a tight spot, use the Short Venturi nozzles for close up blasting.  At 12" - 18" from the end of the nozzle to the work surface, this nozzle produces the same blast pattern as a long Venturi nozzle does at 24" - 36".  An all-polyurethane jacket and tungsten carbide liner give you a lightweight and durable nozzle for the tough places you blast. 
RELATED DOCUMENTS
PRODUCT DESCRIPTION
An abrasive blasting nozzle is designed to accelerate and direct an air and abrasive mixture to the work surface for increased production. Abrasive blasting nozzles are available in a variety of nozzle styles, liner materials, and jacket materials. The nozzle style is determined by the application. The liner material is determined by the abrasive used. The jacket material protects the liner from external damage. Typical applications include blast rooms, blast yards, bridges, offshore platforms, oil refineries, pipelines, railcar shops, shipyards, storage tanks, and water towers.