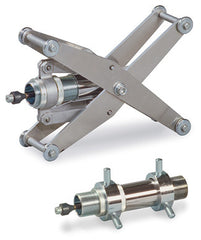 Clemco Hollo-Blast Internal Pipe Blasting Tool for 2" - 12" Pipe
*Items that are out of stock/not tracked in store can be shipped from warehouse.

*
Hollo-Blast ~ The Clemco Hollo-Blast cleans the full 360 degree inside diameter of pipe to white metal finish.  It operates without need of rotating the pipe or the tool. Deposits such as rust, carbon, mill scale, coating, and paint are easily removed.  The Hollo-Blast will accommodate pipes from 2 inch to 12 inch I.D., and lengths up to 40 feet.  Any abrasive (except aluminum oxide or silicon carbide) 20 mesh or finer may be used. In operation, the proper model is attached to a pipe lance and connected to a blast hose. The Holo-Blast is inserted into the pipe, the blast machine is started and is manually pushed through the pipe.  Abrasive hits the tungsten carbide deflector tip and fans out to clean the 360 degree interior.  Air will blow spent abrasive and contaminants out of the pipe. The rate of cleaning depends on deposits being removed.
Hollo-Blast is available with 1/2 inch or 5/8 inch nozzles.  Standard HB-1 delivered with 1/2 inch nozzle.  Air consumption, 1/2 inch 200 CFM, 5/8 inch 350 CFM.

Model HB-1 
Hollo-Blast with 1/2 inch nozzle and tungsten carbide tip

Model HB-2 
Hollo-Blast with 5/8 inch nozzle and tungsten carbide tip

Model HBB 
Hollo-Blast with 1/2 inch nozzle and boron carbide tip

Model HBC-1 
Centering Collars mount on Hollo-Blast to accommodate pipes from 3 inch to 5 inch I.D. in 1/2 inch increments

Model HBC-2
Centering Carriages is adjustable between 5 inch and 12 inch I.D.  The lightweight aluminum carriage is quickly adjusted by knurled lock nut.